November Incentive – $5 bonus with your first sale Please use only authorized coupons.
New affiliates! Check out Nest Learning's November incentive! You can earn a $5 bonus when you make your first sale this month! Christmas is on the way at Nest Learning this week! Be sure to get your Nest Learning Christmas banners up and tell your site visitors about how they can save up to 50% on Christmas items!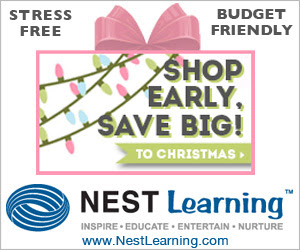 This week, Nest Learning customers can save on Christmas movies, holiday decor, Christian books, and Jewelry! Shoppers can also save 15% off any order using coupon code AFF15! Please be sure to use only authorized coupons and banners for your sites as well.
Jewelry Sale: Up To 25% Off Jewelry
15% Off Any Order with AFF15: 15% Off Any Order with AFF15
Nest Learning Affiliate Program
Over twenty years ago, we began our journey with a passion to positively impact the lives of children, their families and caregivers as the creators and distributors of the world's finest collection of thirty-six animated stories from the New Testament and the Hebrew Bible (Old Testament), and twenty inspiring stories of American and world history's most outstanding heroes and heroines. In the following twenty-years, NestFamily, and our companion brands, Nest Learning and Nest Entertainment have grown to become market leaders, providing inspirational, entertaining and educational resources for the expansive family market
In addition to our core Animated Hero Classics and Animated Stories from the Bible series, we have also created additional enriching stories and highest quality animated, spoken word and musical productions, including the feature film, The Swan Princess and its three sequels, including the recently released, The Swan Princess Christmas DVD and two companion music CDs.
Program Benefits:
* Highly competitive commission : 12% commission on every sale!
* Generous return days (cookies) 30 days
* Dedicated affiliate manager
* Frequent incentives for affiliates
* Frequent promotions for consumers
* Product Feed with over 14K products
* Free Shipping when you spend $79+
* Happy customers = return business…and we pay full commission on every sale!
Join the Nest Learning Affiliate Program on ShareASale Today!