Be sure you have May's affiliate exclusive coupon and banners posted if you haven't yet! Here until the end of the month, shoppers can save 15% on orders over $30 using coupon code BLOOM! Buyers can also still save 40 to 60% on Value Sets through June 3rd as well as BOGO 60% off select merchandise and apparel until June 20th! Outdoor play items are here at a great discount too! Shoppers can also BOGO 50% off all outdoor play using offer code HOPSCOTCH.
40-60% Off Value Sets
May 3-20 – BOGO 60% Off Select Merchandise and Apparel
May 13-20 – BOGO 50% Off All Outdoor Play with HOPSCOTCH
May 1-31 – 15% Off $30+ Order with BLOOM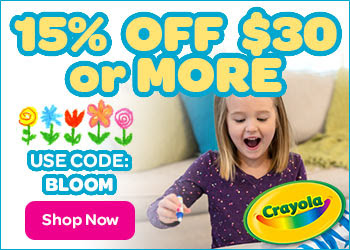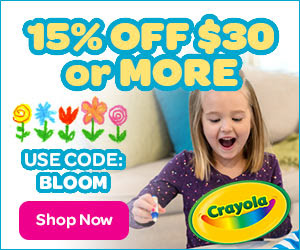 Customers can now enjoy discounts on beautiful art sets like the Signature Pearlescent Paints & Cream Sticks Art Set this week as well! On sale for only $43.17, this lovely kit includes 10 Signature Pearlescent Cream Sticks, 16 Pearlescent Acrylic Paints, and 10 Pearlescent Paint Markers.
Through June 3 – BOGO 75% off Color Escapes
Crayola.com is the official online store for Crayola® products. We offer a huge range of Crayola®brand name items, including crayons, markers, Silly Putty®, Color Wonder, Creative Makers, and even Crayola® Custom 64 Boxes.
Program Summary:
Highly competitive commission: earn 3-5% on every sale !
14 return days
Dedicated affiliate manager
Frequent incentives for affiliates
Frequent promotions for consumers
Unparalleled customer service
Happy customers = return business…and we pay full commission on every sale!
The Crayola Affiliate program is actively managed by Affiliate Management Solutions, LLC.  You can contact us any time at Crayola@AffiliateManagementSolultions.com .
note: We do not allow trademark or trademark+ bidding