Valentine's Day is almost here! Our February affiliate exclusive is available as well. Let buyers know that they can enjoy 15% off orders over $50 this February 1st through 28th using offer code LOVE with colorful banners! Your customers can still save 20% on Valentine's Day card and craft supplies as well as get free shipping on all orders over $40! This means customers can save on brand new products like Crayola's Signature DIY Gallery Designer Wall Art Set! This thoughtful kit allows buyers to create unique wall art using textured paper prints, origami designs, gel sticks, and Signature Pearlescent Paint Markers!
Valentine's Day Card & Craft Supplies
Feb 1-28 – 15% Off $50+ Order with LOVE
New! Signature DIY Gallery Designer Wall Art Set
Make sure your customers are aware of all the fun, February savings they can enjoy as well, like Crayola's BOGO 30% off Slime Kits and Materials using coupon code BOGO30 this February 4th through 15th and 10% off Art Kits and Easels using offer code KITS10 from February 5th through the 15th! Shoppers can also save this President's Day weekend with 15% off and free shipping on orders over $30 when they use offer code PRESIDENTS!
President's Day Weekend: 10% off and Free Shipping on $30+ with PRESIDENTS
Feb 5-15 10% off Art Kits and Easels with KITS10
Feb 4 -15 BOGO 30% off Slime Kits and Materials with BOGO30
February Banners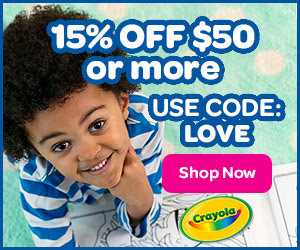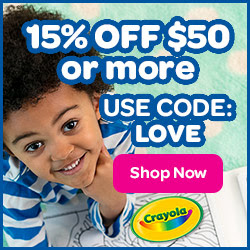 Crayola Affiliate Program
Crayola.com is the official online store for Crayola® products. We offer a huge range of Crayola®brand name items, including crayons, markers, Silly Putty®, Color Wonder, Creative Makers, and even Crayola® Custom 64 Boxes.
Program Summary:
Highly competitive commission: earn 3-5% on every sale !
14 return days
Dedicated affiliate manager
Frequent incentives for affiliates
Frequent promotions for consumers
Unparalleled customer service
Happy customers = return business…and we pay full commission on every sale!
The Crayola Affiliate program is actively managed by Affiliate Management Solutions, LLC.  You can contact us any time at Crayola@AffiliateManagementSolultions.com .
note: We do not allow trademark or trademark+ bidding