Your customers can take advantage of incredible savings this month at Crayola! Buyers can now BOGO 20% off Classpacks & Bulk using offer code CLASSROOM this August 5-18! Shoppers can save a little more on back to school products using coupon code SCHOOL30 as well this August 12-25. Don't forget to include the new affiliate exclusive coupon for August for your customers too! Crayola shoppers can enjoy an extra 15% off orders over $30 using coupon code SUMMERTIME (excluding classpacks and bulk items). What's more? New banner links for August are up as well! Stop by the network to get a hold of all the sizes you need!
Aug 5-18 – BOGO 20% off Classpacks & Bulk with CLASSROOM
Aug 12-25 – BOGO 30% off Back To School with SCHOOL30
15% Off $30+ Order with SUMMERTIME , Excludes Classpacks & Bulk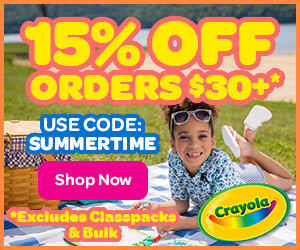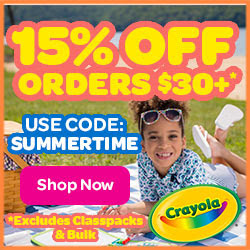 Shoppers can still take $1 off any Take Note item using coupon code BOLD from now until August 16th as well! Shoppers looking for more ways to save can take advantage of the Take Note Sweepstakes where they can get 10% off Take Note products using offer code BRIGHT between August 1st and 11th! Squeeze in a few more drops of summer fun from August 2nd through 5th with the BOGO 40% off coloring books and paper sale as well!
Crayola Affiliate Program
Crayola.com is the official online store for Crayola® products. We offer a huge range of Crayola® brand name items, including crayons, markers, Silly Putty®, Color Wonder, Creative Makers, and even Crayola® Custom 64 Boxes.
Program Summary:
Highly competitive commission: earn 3-5% on every sale !
14 return days
Dedicated affiliate manager
Frequent incentives for affiliates
Frequent promotions for consumers
Unparalleled customer service
Happy customers = return business…and we pay full commission on every sale!
The Crayola Affiliate program is actively managed by Affiliate Management Solutions, LLC.  You can contact us any time at Crayola@AffiliateManagementSolultions.com .
note: We do not allow trademark or trademark+ bidding