FUN BONUS OPPORTUNITY!
Send your first sale to Cameron's Seafood in October, and receive a $10 Bonus!
Cameron's Seafood was founded in 1985 by Allen Manesh and Bijan Manesh. True to their Persian heritage, their mission was not only to sell seafood but also to prepare and serve it to their customers at an affordable price so that everyone could enjoy delicious seafood.
BANNER LINKS AVAILABLE IN SHAREASALE! 
125X125:
250X250: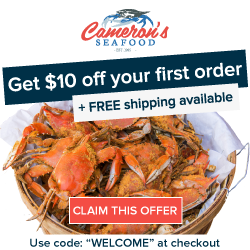 300X250:
300X600:
468X60:
160X600: