Make sure your customers know that they can get fantastic illustration and web page development services at 99designs using the new banners that are now available! Business owners and managers can take advantage of professional creation or updating of illustrative content for as low as $299. Web page and app design and redesign services start at only $599 as well!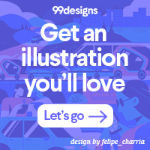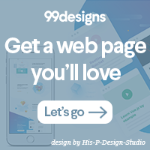 Don't forget that Projects Are Now Commissionable as well!
We're excited to announce that projects, working one-on-one with a designer are now available for affiliate commission at Impact! This has been a long time coming and gives your community more flexibility in the ways that they are able to get amazing graphic design work done while ensuring that you are rewarded for the new clients you send to 99designs.
By selecting a designer, there will be a better understanding of the needs of the client. Details and ideas can be shared with the designer. Together they can create projects for items to market your business. Collaborating on these items will build a relationship and a more uniform look to all your business needs.
Project and Contest sales will help you qualify for the new commission tiers at Impact.
Start off with $35 per sale and as you increase your sales your commission increases!
With just 50 sales you earn $50 per sale and with 50+ sales every 3 months you increase to $80 commission.
Learn more at https://99designs.com/affiliates
Your followers can learn more about projects and working with a designer here:
99designs Affiliate Program
99designs specializes in seamless graphic design made easily. Tell us what you need, get dozens of designs and pick your favorite, it's that simple!  To make things even sweeter, we offer a 100% money back guarantee!
We're excited for your interest in our program, and we hope that you'll start earning with us soon.
Affiliate Program Details:
Commission: Up to $55 per sale
Cookie: 45 days
Dedicated Affiliate Managers
Join the 99designs  program today on either Impact Radius !